Download:
docx
|
pdf
Financial Institution Diversity Self-Assessment Screen Shots
Estimated Reporting Burden
OMB NUMBER: 3064-0200
FDIC Form: 2710/06
EXPIRATION DATE: 01/31/2023
Public reporting burden for this collection is estimated to average four (4) hours per response, including the time for reviewing instructions, searching existing data sources, gathering and maintaining the data needed and completing and reviewing the collection of information. Send comments regarding the burden estimate or any other aspect of this collection of information, including suggestions for reducing this burden, to Paperwork Reduction Act, Legal Division, FDIC, 550 17th Street NW, Washington, D.C. 20429; and to the Office of Management and Budget, Paperwork Reduction Act Project (3064-0200), Washington, D.C. 20503. Respondents need not respond to this request for information unless it displays a currently valid OMB Control Number. An agency may not conduct or sponsor, and a person is not required to respond to, a collection of information unless it displays a currently valid OMB control number.
Burden Statement and OMB Number
Main Landing Page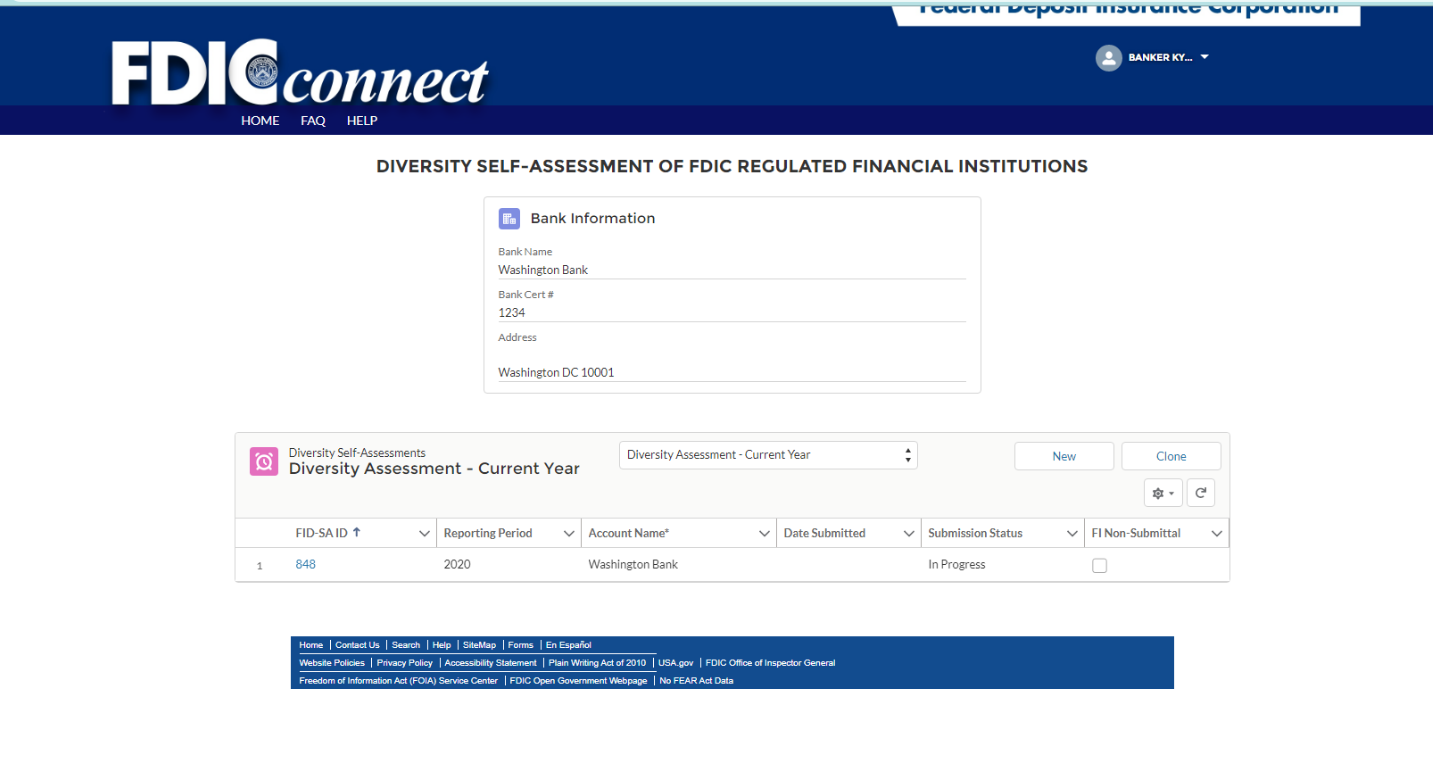 Section I – Financial Institution Information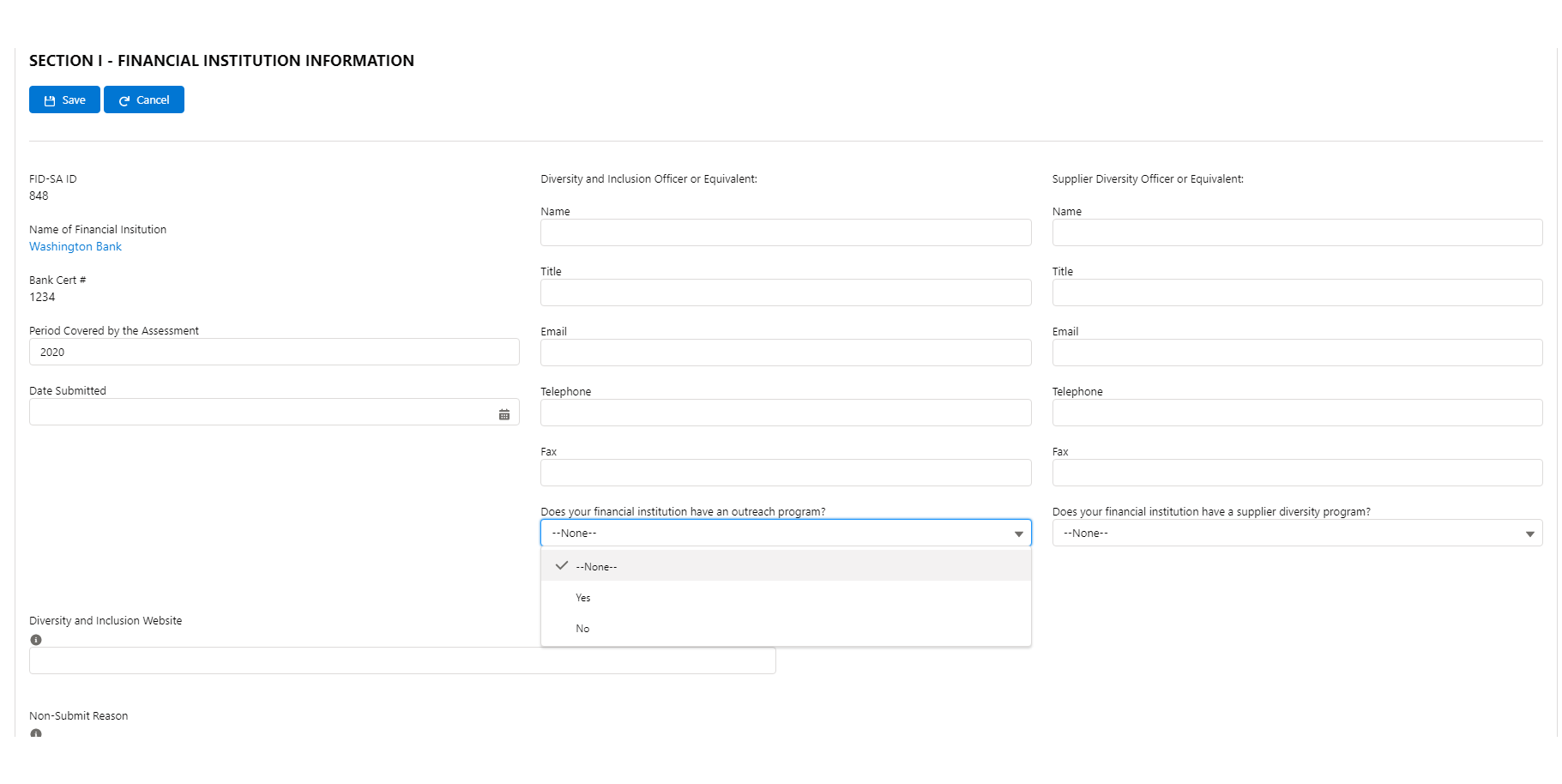 Section II – Assessment of the Financial Institutions Diversity Policies and Practices
Full Screen Shot of Section II – Questions Unexpanded [Note: Each Section with Expanded Questions Shown on pages 4 – 8]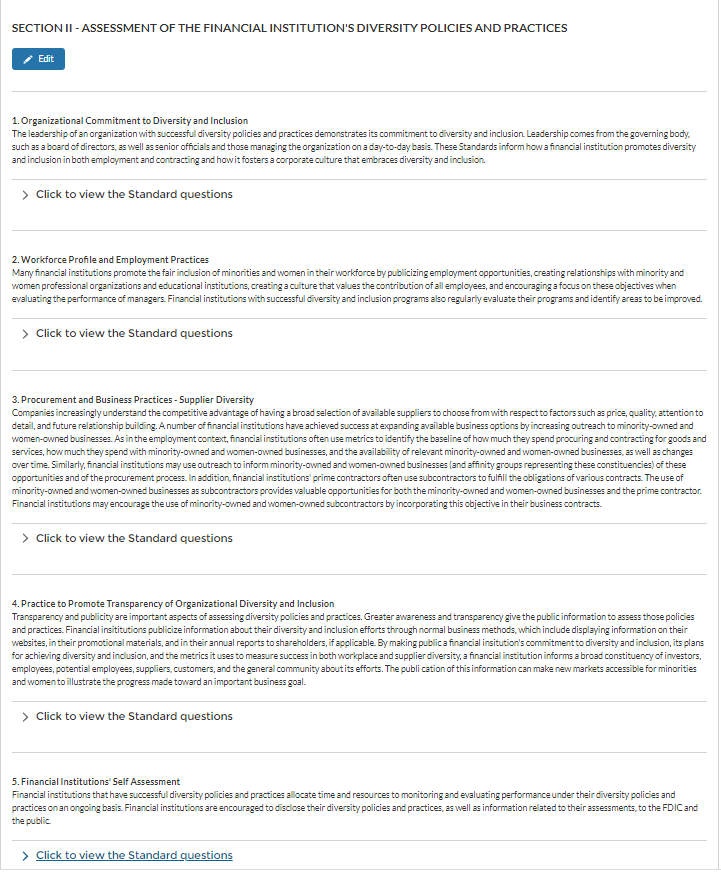 Standard 1: Organization Commitment to Diversity and Inclusion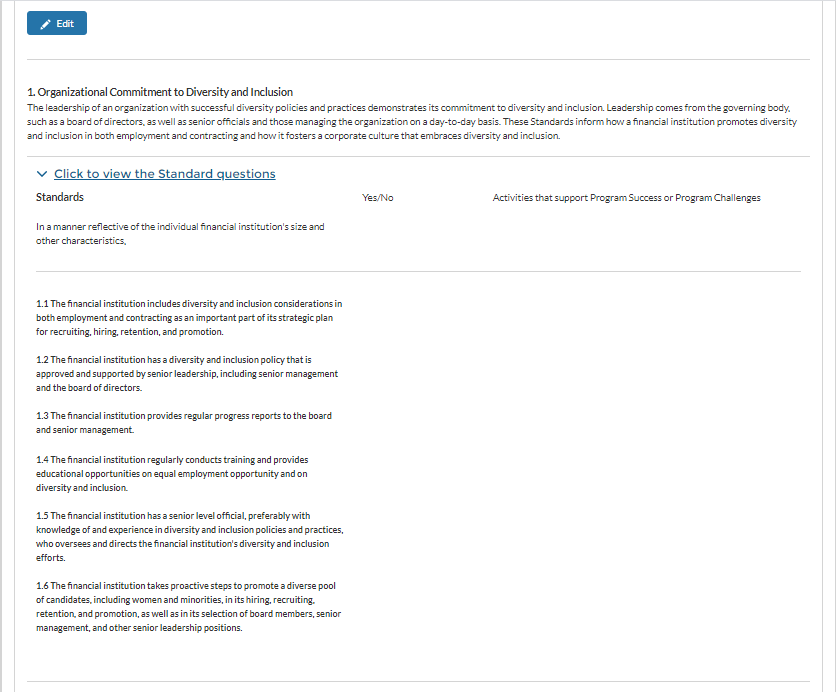 Standard 2: Workforce Profile and Employment Practices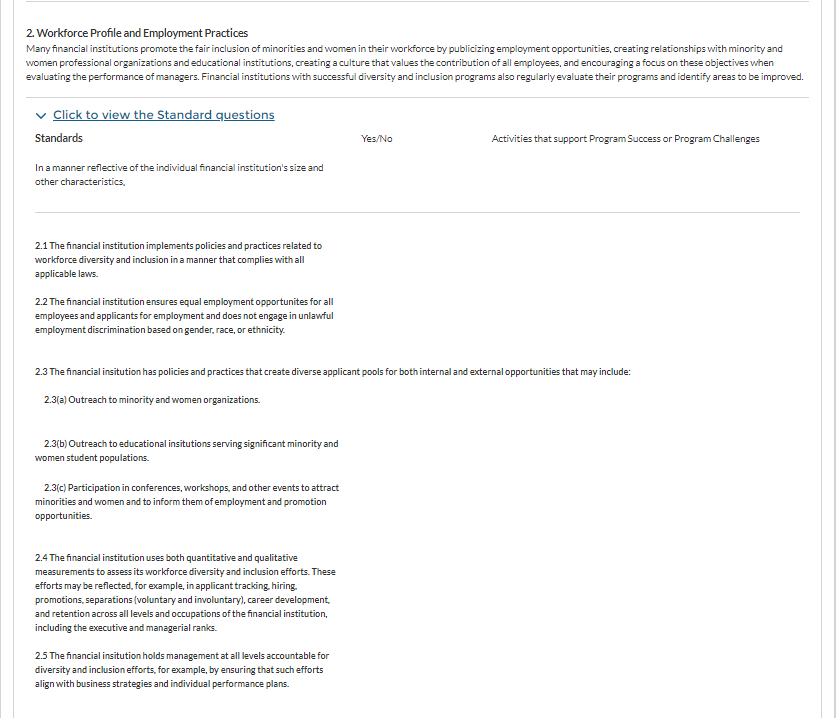 Standard 3: Procurement and Business Practices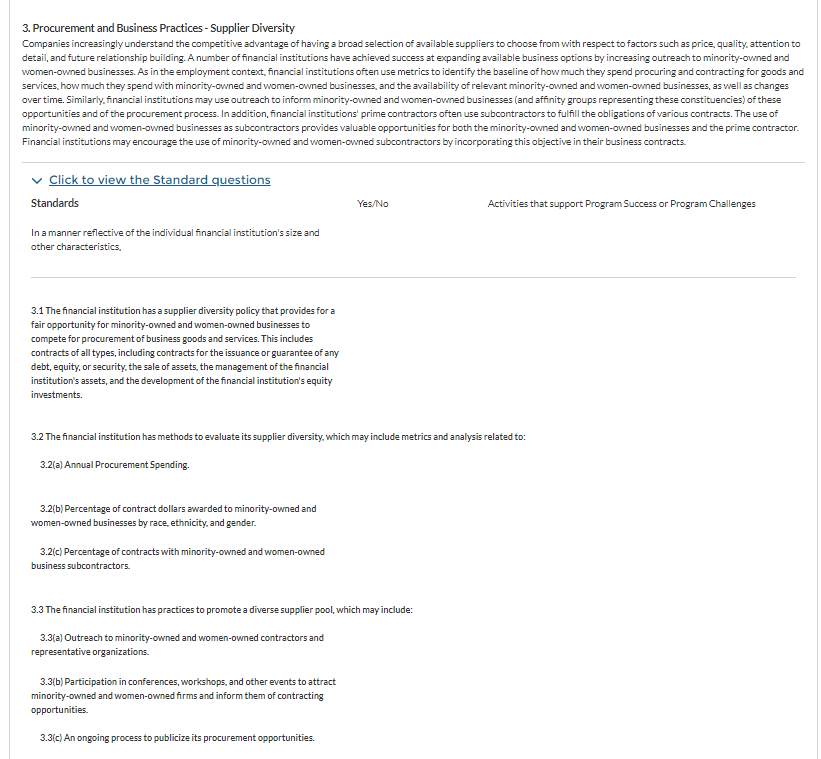 Standard 4: Practice to Promote Transparency of Organizational Diversity and Inclusion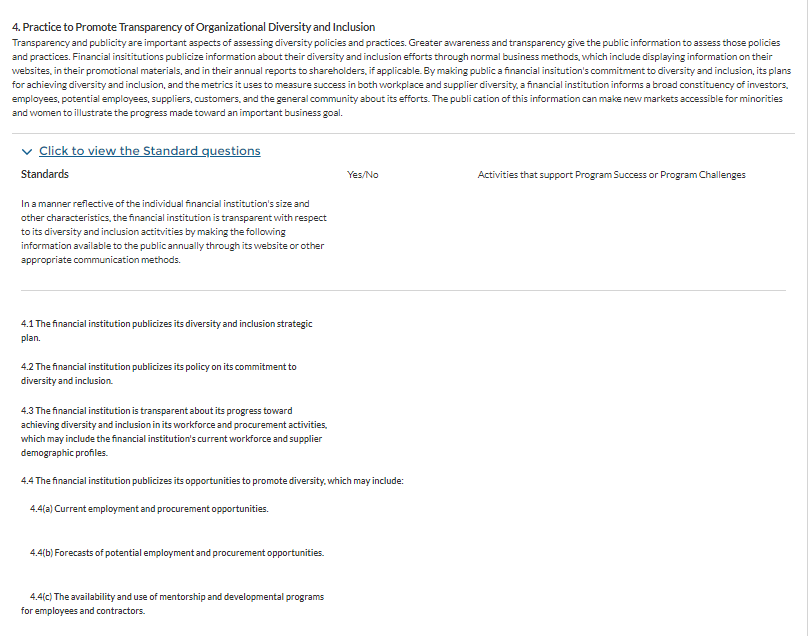 Standard 5: Financial Institutions' Self Assessment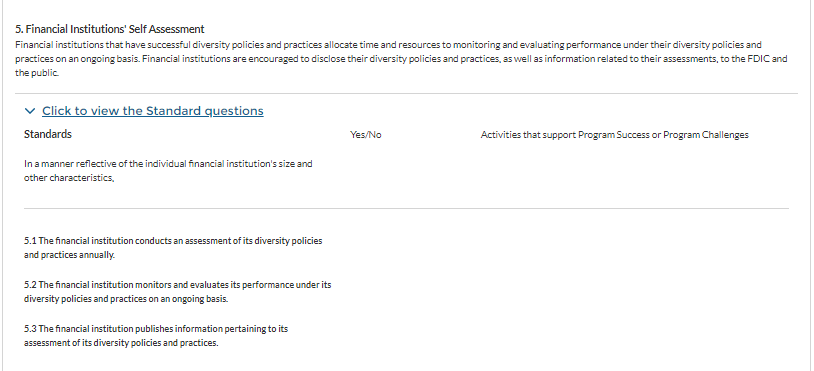 Section III – Workforce Demographics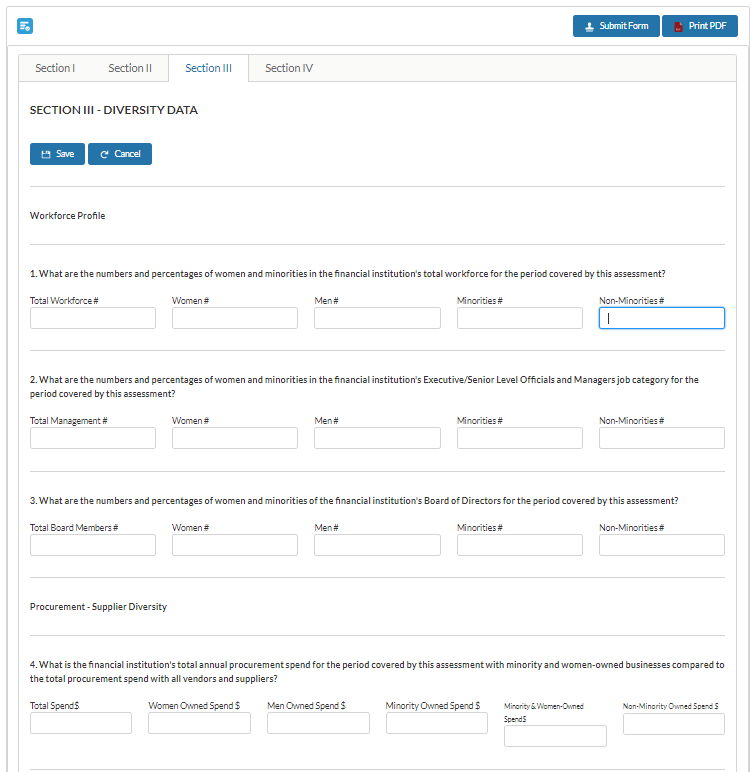 | | |
| --- | --- |
| File Type | application/vnd.openxmlformats-officedocument.wordprocessingml.document |
| Author | Herring, Angela M. |
| File Modified | 0000-00-00 |
| File Created | 2022-01-13 |