Download:
docx
|
pdf

It's Convenient. It's Secure.
Online Survey Response

Responding to your agriculture survey online is both convenient and secure.
The online form:
lets you skip questions that don't apply to you

calculates totals automatically

eliminates the need for return postage and data entry
To complete your survey online, follow these steps:
Go to www.agcounts.usda.gov.

Read the message, then click the arrow to complete the survey.

Enter your unique 17-digit Survey Code from the label on the letter or questionnaire you received in the mail, then click "Continue."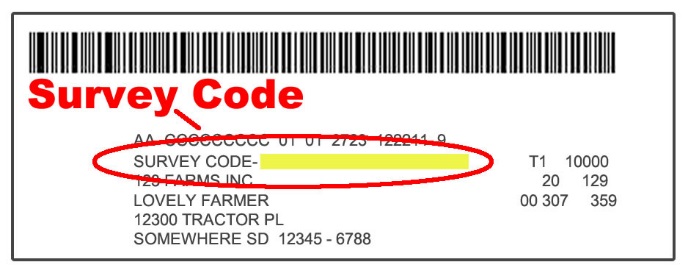 Find the survey you are completing and click on it.

Verify and complete your contact information, then continue to the survey.

Complete the survey questions.
If you need to stop, press the "Save & Return Later" tab at the top of the page. When you return, go back to Step 1 above. After the opening page, the survey tool will take you to the last page you visited.
When you finish the survey, click "Submit." If you do not see the Submit button, reduce the zoom setting on your screen.
You will receive a confirmation code and can choose to view your completed survey form. Using the options provided by your browser (Internet Explorer, Chrome, Mozilla, etc.), you can print, copy, or save the completed form.
| | |
| --- | --- |
| File Type | application/vnd.openxmlformats-officedocument.wordprocessingml.document |
| File Title | EDR Instructions WORD Version (Updated (2/03/2016) |
| Author | Philips, Rosemarie - NASS |
| File Modified | 0000-00-00 |
| File Created | 2022-05-12 |