Download:
docx
|
pdf
Attachment 1
Public Health Service Act 301 and 308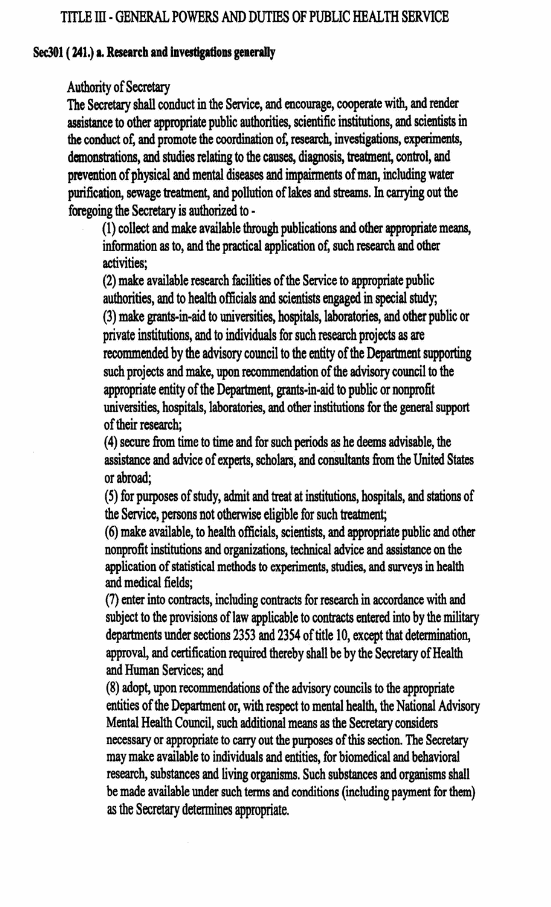 TITLE 42 - THE PUBLIC HEALTH AND WELFARE
CHAPTER 6A - PUBLIC HEALTH SERVICE
SUBCHAPTER II - GENERAL POWERS AND DUTIES
Part A - Research and Investigations
Sec. 241. Research and investigations generally
-STATUTE-
(d) Protection of privacy of individuals who are research subjects
The Secretary may authorize persons engaged in biomedical, behavioral, clinical, or other research (including research on mental health, including research on the use and effect of alcohol and other psychoactive drugs) to protect the privacy of individuals who are the subject of such research by withholding from all persons not connected with the conduct of such research the names or other identifying characteristics of such individuals. Persons so authorized to protect the privacy of such individuals may not be compelled in any Federal, State, or local civil, criminal, administrative, legislative, or other proceedings to identify such individuals.
| | |
| --- | --- |
| File Type | application/vnd.openxmlformats-officedocument.wordprocessingml.document |
| Author | uxd9 |
| File Modified | 0000-00-00 |
| File Created | 2023-08-25 |